Productivity from arguments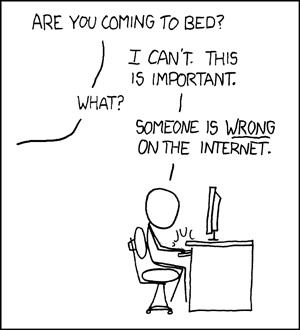 I have to admit something: I like online arguments. I hate flame wars, I hate all kinds of harassment and I hate pointless circlejerks, but I enjoy having a positive discussion, where both parties grow, and where both can learn from the other's point of view. Admittedly, most of the time I seem to be the only one interested in having a constructive debate, I got yelled at, called names, threatened, attacked and I have experienced all other kind of ugliness. But even if only 1 out of 100 discourses lead to personal growth, it was worth it for me.
Sadly, most of the time these discussions disappear in some chat log, in some private email exchange, in facebook comments or in a flood of tweets. How often did I have to write the same arguments again? How often was everything I wrote for nothing, and forgotten after a few minutes? The internet allows us to have exchanges of view with hundreds of other persons, that's a mighty good thing, but sadly the signal-to-noise ration is very bad, and good discussions disappear. Sometimes I spend hours researching information and writing facebook comments, only to have the original poster delete his post and my comment with it.
Having a blog (or generally a homepage) allows me to keep the constructive stuff. I can summarize discussions, I can copy tidbits of conversations, I can write explanatory texts I can then just copy/paste or link to, I can reference my previous ideas, I can even track my change of mind. And if somebody corrects me on some detail, or points out a flaw in my thinking, or even a factual error, I can write that down, I can correct the erroneous statement, and stop myself from involuntarily spreading misinformation. I can even add details in a later moment, to clarify a point, or to solidify my position.